Lemon Rice
Cook rice as described in the Just Rice Recipe. Adding a cinnamon stick when boiling rice adds to the flavor. Lemon Rice is a tasty dish that can be eaten as a meal by itself or served with any accompaniment. Please note that you may use fresh or dessicated coconut. Just make sure it is not the sweet variety. Use fresh lemons if it is easily available. I often used the bottled lemon juice, but recently I have started using fresh lemons.
This recipe is suitable for vegans as the butter is optional. The amount of nuts in this recipe, depends on your individual taste, vary the amounts according to your taste.
Here is the recipe.
Ingredients
3 tablespoons Canola oil
2 teaspoons mustard seeds
2 tablespoons dry split channa (chick pea) lentils
1 teaspoon ajmo seeds, also known as celery or tymol seeds
1 tablespoon butter(optional)
2 - 3 tablespoon desiccated coconut/sliced fresh coconut of/coconut flakes
1 cup cashew nuts
2 tablespoon peanuts
1 - 2 finely sliced or crushed green chilies
1-2 dry red chili (amount is to your taste)
1 - 2 teaspoons salt
¼teaspoon turmeric powder
½ teaspoon ground ginger
3 tablespoons lemon or lime juice/ fresh or bottled
about ¼ cup chopped cilantro leaves
Method
Pick lentils & rinse. Add ½ cup water & microwave for 2 min.
Drain water and keep aside
Heat oil
Add mustard seeds. Put lid on & lower heat as seeds splutter
Add lentils & stir
Add chilies, ginger & turmeric: stir
Next add the nuts & stir for a few seconds
Add salt & coconut & lemon juice & stir
Add this mixture to the cooked rice and blend
Adjust salt if necessary. You may need extra because of the lemon juice. Garnish with Cilantro and serve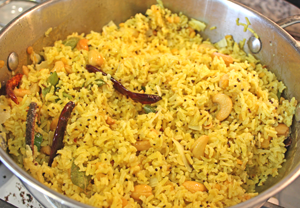 The saute´d mix now added to the pot of cooked rice which must be mixed well to incorporate the flavors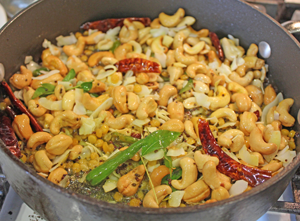 Cashew nuts added to ingredients cooking on Stove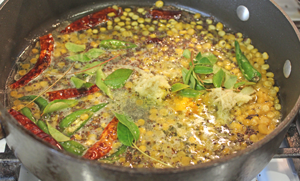 Ingredients cooking on Stove
Lemon rice is also very good cooked with brown rice. If you have curry leaves available use that as well in the stage when you add the mustard seeds.
If you have any questions or would like to add a recipe of your own, email me, Nirmala, at
.
I will be happy to help in any way I can. The site will be regularly updated with tasty recipes and hints and tips. You can also reach me at Contact
Now quickly and easily navigate to your next destination.